YOLO (you only live once). And while you only get one life, if you live it well, once is enough. Anyone who has experienced success, or happiness can tell you that they are all momentary bursts of serendipity. Truth be told, all of us forget their fleeting nature, even the more enlightened beings. We get carried away on cloud 9's and naturally, in due time, fall on our backs when the euphoria evades us. We're forced to confront the realities of life, realize our missteps, and recalibrate forward.
Even though it may sound distressing, facing these hard truths of life can prove to be a cathartic process. These are straight truths, not sugar-coated to make you feel better, but they have the power to put us back in touch with our reality (that often hides behind our illusive lives), help us realize our true self, and strengthen us to face the difficulties that may come in the future.
Here are some hard truths of life, we sincerely hope that these prove to be reminders of the value of life and to live it fully and happily.
You can't control everything
Yes, you cannot always control the circumstances, but there is still a lot you can always control. When life throws you a curveball, you can either decide to succumb to it, whine about your helplessness; or you can maneuver the course of your life by taking charge of things that are still controllable. This acceptance would free you of a lot of unrequired pressure and allow life to happen. Take control of your reaction, protect your happiness and peace, remember about your ability to focus on the positive, and having more faith in your abilities than your fear of failing. If things have been particularly out of control in life lately, we understand. But know that you don't have to live that way. Here are a few things you can do to take back control of your life.
Loss is inevitable
We are mortals, after all. Ignoring this hard truth about life is like setting ourselves up for failure. When a loss occurs, instead of giving in to the despair, shift your focus on the brighter side of this truth. You are alive, you have been gifted with a life worth loving and living to its fullest; you have people you love and who love you back. And while we would all bear losses at some point, we can accept this truth and live each moment without judgment, anguish, or anger. While accepting this hard truth will not shield us from grief, it will help us in finding our paths again.
There's a lot you don't know yet, and that's okay
Every day you are evolving, every day you are learning. Human life is a journey of constant learning. That is why it is really important to take them down a notch, and accept that you don't know everything.
If you look at all the knowledge of the world as a pie, there is literally a small sliver of knowledge that you know. For instance, you know how to drive or brush your teeth. A slightly bigger slice of the pie is all the information that you know that you don't know. For instance, you know that you don't know how to launch a rocket into space or to perform brain surgery (unless you are a surgeon). And the largest piece of the pie is always going to be the information that you don't know you don't know.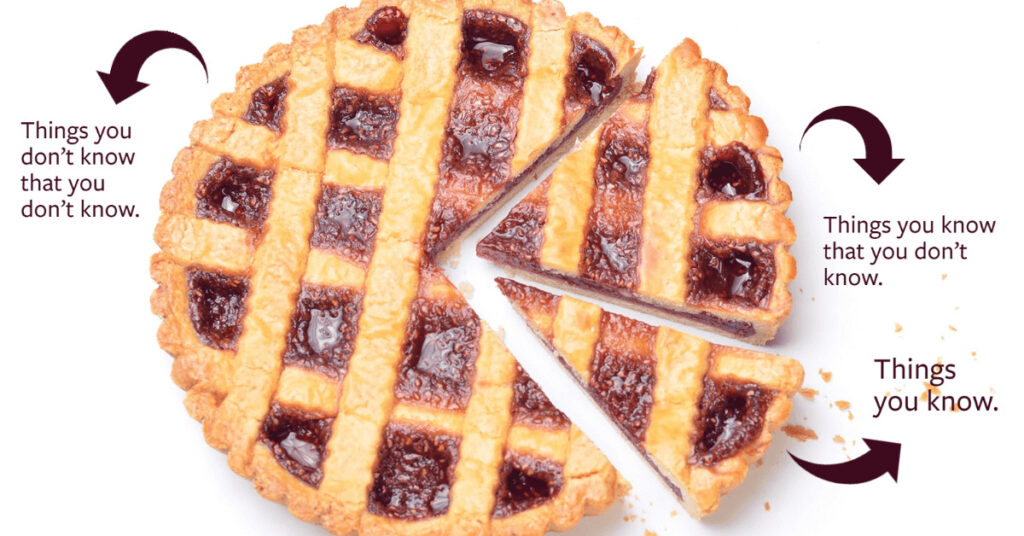 You can't know everything. This simple (yet very hard to accept) truth can liberate you. It will help you understand that you are not perfect, remove unrealistic expectations of others, and allow new, information to flow inwards and advance you in life.